The potential impact of vaccines on human lives and on companies' bottom lines are starting to clash, as the issue of social responsibility versus expensive research and development (R&D) and business viability is raised with ever increasing frequency. To what extent do pharmaceutical companies have an assumed responsibility to "do good" by providing affordable access to their products to the largest possible audience, and how can these companies follow the model of Catalytic Philanthropy to balance having a for-profit, sustainable business model alongside this responsibility?
The concern is related to cost and availability – particularly in poorer countries that lack the resources and infrastructure to provide these vaccines to their people. According to "Value of Vaccines", a study done by the Bill & Melinda Gates Foundation in 2010, over two million children under the age of five die each year because they did not have access to immunizations against preventable diseases. There is concrete proof of this within the last two decades, with diseases like polio being almost ninety-nine percent eradicated worldwide, and new, cost effective vaccines being developed for Pneumonia, Meningitis, and Cholera, among several others.
Funding for these projects is not easy to come by, and not at all cheap, and although the Gates Foundation has helped to make incredible strides, they recognize that "providing millions of children with a healthier start to life cannot be achieved without greater support from partners across the globe"
PROFIT & ACCESS – A BALANCING ACT
How to balance profit and accessibility? Seth Berkley, CEO of GAVI Alliance, a company that aims to unite public and private sectors in order to spread vaccine availability, believes that it is very possible to achieve such a balance by adjusting cost based on a country's middle-income. Under his model, a poor country would pay very little for vaccines, less than twenty cents per dose, until they grow economically to the point where they "graduate" from the program and are able to afford these vaccines at the original price; meanwhile richer countries pay the original price, effectively subsidizing the "discount".
But perhaps the problem that needs to be addressed is not the cost of these vaccines at the point of sale, but rather how their production and patents are managed? According to Martin Friede, program leader for the Technology Transfer Initiative of the World Health Organization, that is exactly the root of the problem.
However this is not to say eliminating vaccine patents is the answer, argues Stanley Plotkin, emeritus professor of the University of Pennsylvania who also developed the rubella vaccine. He agreed with Friede's statements that patents should not be blocking new discoveries or causing more roadblocks due to mismanagement, but he did say that "patents do stimulate discoveries". Patents bring back royalties to the institutions that filed them, which allows for continued funding in the increasingly expensive R&D process.
There is an obvious interplay between profit and social responsibility here, but to what extent can an industry shift in either direction before things start to fall apart? For-profit pharmaceuticals have the capabilities to go through the extensive R&D process, and have a business model that results in returning cash flow needed for continued funding.
But pharmaceutical companies, especially in recent years, do not seem to have a particularly clean track record when it comes to achieving an ideal "people vs. profit" balance.
CAN PHILANTHROPY HELP?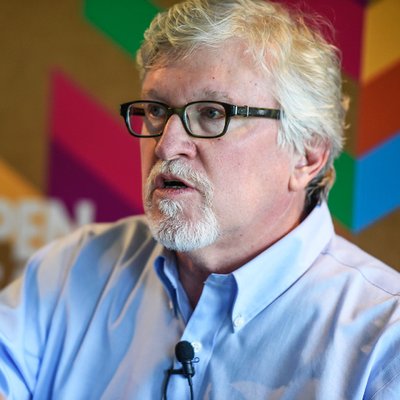 Can philanthropy teach us an important lesson on how to achieve this balance, or at least get it started moving in the right direction? In an interview at Stanford University, Jeff Raikes discussed the particular form of philanthropy that can help jumpstart change of this magnitude, while not relying on an unrealistic system in which a single entity continues to provide funding without the expectation of investment return; a term called Catalytic Philanthropy.
In essence, one institution acts as the catalyst and innovates a solution that a larger entity might be wary of attempting, and proves that it is both helpful and viable, and then relies on those institutions with recurring cash flow to continue investing and maintaining the original venture.
The opportunity is to be the 'social risk takers' and to have those interventions and prove the efficacy of their impact… showing the way to a market opportunity or highlighting the fact that there is a public social good that needs to be invested in" – Jeff Raikes
So does this mean that the best alternative is philanthropy? Or at least a system that begins off of a philanthropic leap of faith into a venture? While this seems like an ideal, it raises further questions about where these foundations would find money in the first place, as they are not based on a self-sustaining model.
A THREE-PRONGED APPROACH SOLUTION
Perhaps the answer relies on a three-pronged approach. The key idea is not to change how the private sector operates, but how pharmaceutical companies need to take a step back and look at the big picture.
Groups such as the Gates Foundation can help companies convene and get them to discuss the idea of providing medication to poor people at little to no cost, raising awareness of the facts that it is in their best interest to make this contribution to society. This is a model in which companies see that corporate social responsibility adds value to the firm.
The model of varied pricing in which wealthy economies subsidize the developing world and where pharmaceutical companies can charge a lower price closer to marginal cost to them.
When there is a market failure or when the public sector is not going to invest, those are gaps in society where Catalytic Philanthropy is a viable solution that identifies gaps in society where philanthropic investments can make a difference.
There isn't anything inherently wrong with the private sector in its current state – a market failure doesn't mean that the private sector isn't working, just that there's a failure of the market to meet that need. The best way to think of it is that there are various tools to meet the needs of people, and the one thing we know for sure is that in a deadlock battle between people and profit, everyone loses.
_______
Luis E. Salazar III is an undergraduate student at UW studying Molecular and Cell Biology, a researcher in the de la Iglesia lab, and a Mary Gates Research Scholar
---
Learning and benchmarking are key steps towards becoming an impact giver. If you are interested in giving with impact on Impact Philanthropy take a look at these selections from Giving Compass.
---
Looking for a way to get involved?
If you are interested in Impact Investing, please see these relevant events, training, conferences or volunteering opportunities the Giving Compass team recommends.
---
Are you ready to give?
If you are looking for opportunities to take action and give money to Impact Investing, here are some Giving Funds, Charitable Organizations and Projects aggregated by Giving Compass where you can take immediate action.