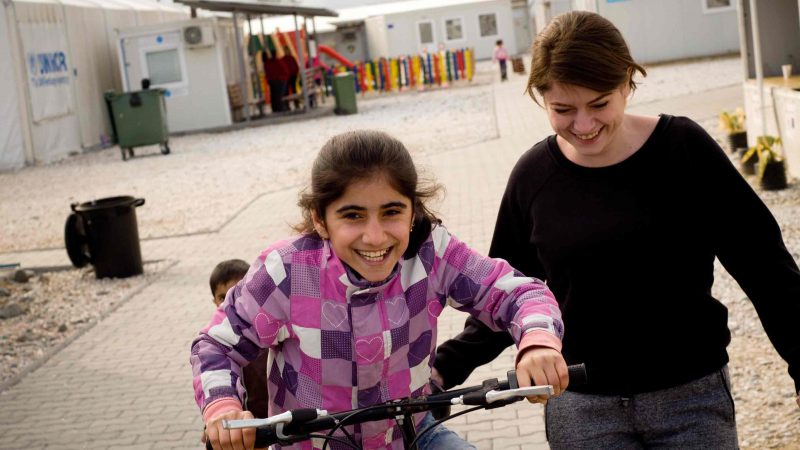 What is Giving Compass?
We connect donors to learning resources and ways to support community-led solutions. Learn more about us.
---
Contrary to economic arguments against refugee resettlement, recent research suggests refugees generate positive economic benefits for their host countries. Recent studies—by the Open Political Economy Network and the Tent Foundation, the University of California at Davis, and the two United Nations organizations—have recently found investment in humanitarian aid and other support for refugees can result in returns for the economy.
Learn more refugee topics on Giving Compass
A 2014 study by the Humanitarian Innovation Project (HIP) at Oxford University detailed the active economic lives and entrepreneurship of refugees. The study, based on a large-scale field survey of 1,593 refugees in Uganda, found that most refugees in Uganda generate earned income, and nearly one in five operates a business that employs people outside their household. Large majorities of both rural and urban refugees regularly buy from Ugandans. In turn, Ugandans are the largest customers for one-quarter of the businesses owned by refugees. Technology is also actively used by refugees;  nearly one-half of rural refugees and almost all urban refugees rely on mobile phones for electronic payments, market information, or communications with customers and suppliers.
The findings of the HIP study were reinforced on my own recent visit to Rwanda, which neighbors Uganda and also has a large refugee population. I was hosted by Inkomoko, a social enterprise that works with Rwandan entrepreneurs. Inkomoko, a Mastercard Center grantee, has taken an active role in supporting United Nations High Commission for Refugees (UNHCR) and the Rwandan government's refugee livelihoods programming, which has a strong focus on entrepreneurship. The company enrolls refugee entrepreneurs in its comprehensive, year-long program that provides business consulting services, legal and tax advice, mentorship, classes on topics such as accounting and marketing, and access to its investment fund. It is also expanding the reach of its programming with a less-intensive course designed to address a critical skills gap it has identified among refugees: the need to accurately record business income and expenses and generate financial reports.
Read the source article at Mastercard Center for Inclusive Growth
Read more about using data to make smart giving decisions at GivingCompass.org
---