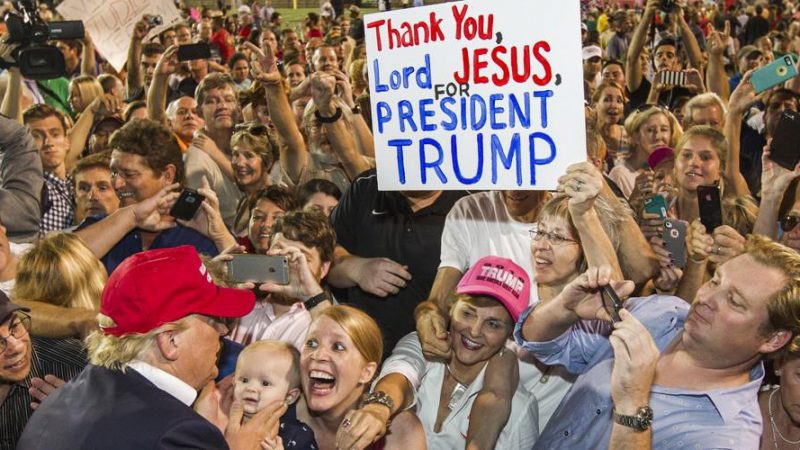 What is Giving Compass?
We connect donors to learning resources and ways to support community-led solutions. Learn more about us.
---
Donald Trump has never been known for displays of Christian humility. The first few minutes of his remarks at the National Prayer Breakfast in February were no exception. He thanked the creator of Celebrity Apprentice and, pronouncing Arnold Schwarzenegger a "total disaster," asked the audience to pray for the show's ratings. Trump went on to remind everyone that he is a billionaire, "somebody that has had material success and knows tremendous numbers of people with great material success—the most material success."
Later he acknowledged that his mission to stop terrorism "may not be pretty for a little while," and promised that his administration would confront threats "viciously, if we have to." Trump's signature swagger makes many Christians wince, but it has deterred few white evangelicals. Eighty-one percent of those who voted last year cast their ballot for him.
That figure has become one of the most discussed statistics of the 2016 election. How could so many conservative Christians have voted for a thrice-married casino mogul who has bragged about assaulting women and rarely goes to church? Some commentators have speculated that perhaps these voters weren't all that "evangelical" to begin with. "Many cultural Christians who never go to church identify as 'evangelical' or 'born-again,' " suggested one conservative Christian blogger.
A writer in The Nation emphasized evangelicals' concern about future nominations to the Supreme Court:
"If you can rally voters around abortion, few other issues matter."
Other observers credited plain old party loyalty or wondered whether this election proved that religion doesn't matter very much anymore. So many voters seemed motivated by economic and racial grievances and resentment of Washington elites, not faith.
---