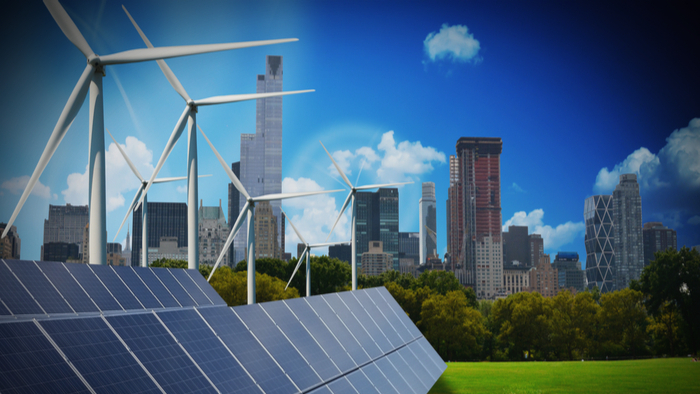 What is Giving Compass?
We connect donors to learning resources and ways to support community-led solutions. Learn more about us.
---
Giving Compass' Take:
• According to a report from the Institute for Local Self-Reliance (ILSR), cities need to build expertise and investment if they want to hit renewable energy targets.
• How can donors work with local officials to invest in renewable energy? How does community input in this process prioritize equity?
• Read about corporate renewable energy in the age of COVID-19. 
---
If cities are to hit their targets of using 100% renewable energy, they need to build more expertise, invest more money into those goals and garner more support from utilities, according to a report from the Institute for Local Self-Reliance (ILSR), the University of Michigan's School for Environment and Sustainability and other partners. Cities should also focus on equity and make sure the most vulnerable are not neglected in the transition away from fossil fuels, the report said. The best way to do that is to build community buy-in early on, from a wide swath of residents and community organizations, report co-author Kanchan Swaroop told Smart Cities Dive.
John Farrell, co-director of ILSR and director of its Energy Democracy Initiative, told Smart Cities Dive it can be challenging for cities to put much financial heft behind hitting climate goals as they are often limited in taxing power and cannot offer as robust incentive programs as the federal government can.
And building that public support is crucial, especially in the early stages of putting together a climate agenda that looks to make enormous changes to a city's energy consumption. Swaroop said that while many cities' intentions are good, they need to be more cognizant of involving their residents and collecting public input.
The rise of climate emergency declarations at the city level, which are often pushed by local activists in a bid to focus leaders' minds and policy agendas, are an example of how community engagement can help drive change. But this can be challenging without collaboration with the local utility — and with many utilities answerable to shareholders, it can be tough for cities to build a relationship with them, Farrell said.
Read the full article about cities push for renewable energy by Chris Teale at Smart Cities Dive.

---