What is Giving Compass?
We connect donors to learning resources and ways to support community-led solutions. Learn more about us.
---
The New Philanthropy — An Open Letter to Jeff Bezos
Dear Jeff:
You've bought Whole Foods; you have an enormously successful company with Amazon. So now it seems like the right time to get involved with changing the food system to one in which healthy, safe, delicious food is available to everyone — both in the U.S. and around the world.
You recently tweeted that you wanted ideas regarding how to undertake your philanthropy. I have an idea — an idea that has 20 years of experience and expertise behind it. An idea that I'm working to bring to reality.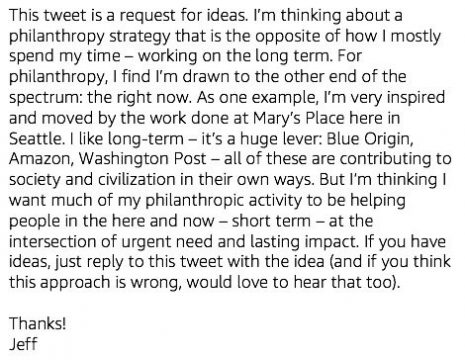 The best way to undertake effective philanthropy in the 21st century is to solve short-term problems while at the same time working toward long-term solutions. Change Food is working to do just that. In addition, for profits and nonprofits are becoming more and more aligned and are working more closely together.
Let's look at the food movement, using Green Bronx Machine as an example.
Green Bronx Machine is home to the National Health Wellness and Learning Center in PS55 in the South Bronx, the poorest Congressional District in the country. The Founder Steve Ritz teaches at risk youth STEAM subjects, all while growing food that they cannot find in the area. The Center even has obtained certification to donate food grown in the classroom to the cafeteria to help all children in the school eat healthier meals.
In a short time, this effort has decreased behavioral incidents at the school by 50% since 2014. Attendance has also increased from 50% or less to an astounding 95%. Passing rates in science exams have increased 45% from school year 2014–15 to 2015–16.
Yet with all this success, Green Bronx Machine does not receive adequate funding. Many grassroots nonprofit groups like this are not getting the support they need — philanthropic dollars are going to large, bloated bureaucratic organizations while smaller, more successful grassroots groups are working for little to no funding — even though they are more successful at creating real change in a community. This is becoming ridiculous.
Click here If you want to read more articles related to giving with impact
Read the complete Open Letter from Diane Hatz, Founder & Executive Director, Change Food
---