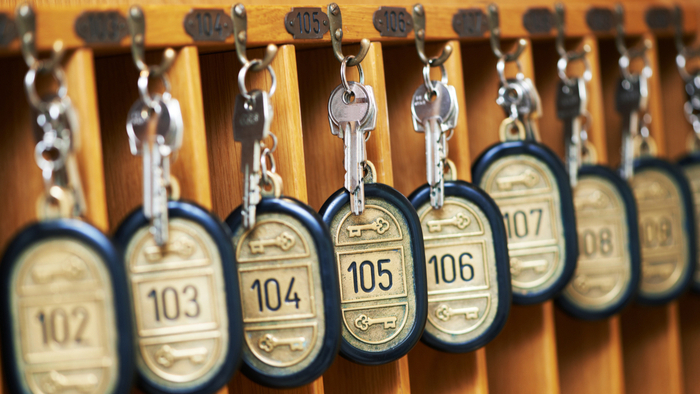 Giving Compass' Take:
Isobel Whitcomb reports on outcomes in hotel shelters opened by city and county governments throughout the United States in response to the pandemic.
What factors might contribute to better health and mental health outcomes in non-congregate shelters? How can you support investment in programs and organizations that work to provide pathways out of homelessness?
Read about "housing first" approaches.
---
What is Giving Compass?
We connect donors to learning resources and ways to support community-led solutions. Learn more about us.
---
Even outside of a pandemic, homelessness takes an extreme toll on health. A 2018 study published in The Lancet found mortality rates 3 to 11 times higher in unhoused populations. Other studies suggest this discrepancy persists even when researchers control for socioeconomic class and preexisting health conditions. "You're exposed to the elements, you're exposed to extreme stress and trauma," says Deborah Padgett, a professor at the Silver School of Social Work at New York University and an expert in housing and homelessness. No wonder people's health suffers under these conditions.
Traditional shelters and housing programs often require participants to meet certain criteria, such as sobriety or enrollment in substance-abuse treatment. Curfews can make it impossible to feel at home, and crowded rooms interfere with sleep and feelings of safety. Housing advocates have long called for change within the shelter system. By providing privacy and stability, the hotel shelters are an unexpected answer to that call. Early research suggests that the new shelters have not only led to a decrease in COVID-19 cases; they're leading to better health outcomes overall.
When King County, Washington, which encompasses Seattle, first moved more than 700 unhoused people into hotels in April of 2020, the impact was almost immediate. The service providers contracted to run the shelters began calling up the county, reporting that their residents were looking better, sleeping better, in cheerful moods. "They were thriving," says Gregg Colburn, a professor of real estate who studies affordable housing access at the University of Washington in Seattle.
Colburn, with researchers from the University of Washington and King County, led a study investigating the experience of those staying in the hotel shelters. The researchers interviewed 22 people living in the hotels and nine staff members from housing service providers, the city of Seattle, and King County. People living in the hotels reported better hygiene, less anxiety, and less substance use. They pursued hobbies ranging from watching television to hiking and fishing.
COVID-19 cases were down compared to traditional shelters. Of the 383 people living in the hotel shelters, researchers observed six COVID-19 cases between April 2020, when participants were moved into the hotels, and Sept. 8 of that year. During that same period, researchers observed 49 cases among 926 people living in congregate shelters. As mental health improved, shelters also relied less on police intervention. Among one group of participants, 911 calls to local police fell by 80% after they moved into a hotel.
The success of the hotel shelters is no surprise to researchers and advocates in the world of housing access. Research has long supported the idea of "housing first"—getting people into long-term housing before asking them to navigate health care, social work, and substance abuse treatment.
As of now, the hotel shelters aren't true permanent supportive housing, Colburn says. The housing they provide is temporary. But that could change: King County is planning to purchase as many as a dozen hotels using revenue from sales tax, with the goal of placing 2,000 people—nearly half of its current unhoused population—in rooms permanently.
Read the full article about homelessness during the pandemic by [u'Breanna Draxler'] at YES! Magazine

---