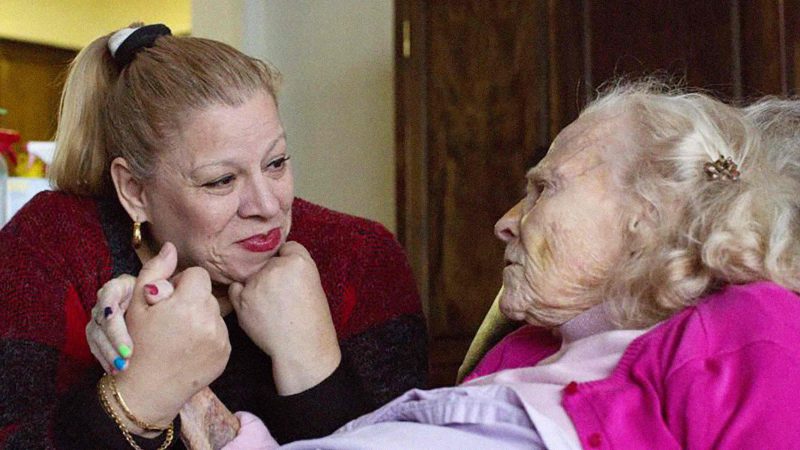 What is Giving Compass?
We connect donors to learning resources and ways to support community-led solutions. Learn more about us.
---
Giving Compass' Take:
•  The documentary, "Care" by director Deirdre Fishel and producer Tony Heriza, follows the lives of four caretakers who shed light on the challenges and hardships for caregivers of the aging population.
• How can philanthropists help address issues in the caretaker industry?  
• Read about the hurdles for older caregivers and family planning. 
---
Meet Vilma – she came to the United States six years ago and began caring for 92-year old Dolores who suffers from dementia. Dolores's family lives across the country, so Vilma is her lifeline, providing her with 24-hour care. Despite her long hours and dedication to Dolores, Vilma lives on the brink of poverty.
On the other hand, after just two years of care, Dolores is running out of her life savings and struggles to find a way to pay for at-home care. With more and more people wanting to age at home, home care is one of the fastest growing industries, but the current system isn't adequately serving care workers or the families who employ them.
Director Deirdre Fishel and producer Tony Heriza created the documentary Care, supported by our JustFilms and Inclusive Economies programs, to raise awareness of this often hidden in-home elder care workforce. The film follows four families and care workers, including Vilma and Dolores, examining the bonds formed and hardships faced by workers and their clients.
Our goal was to raise awareness of our ill-prepared care system, before our aging nation faces a massive care gap. Though this issue affects nearly everyone, despite race, class or geographic location, it is still seen as a private matter and the movement around care is just gaining legs.
Read the full article and interview about caring for the aging population by Anna Shireen Wadia and Laine Romero-Alston at The Ford Foundation
---