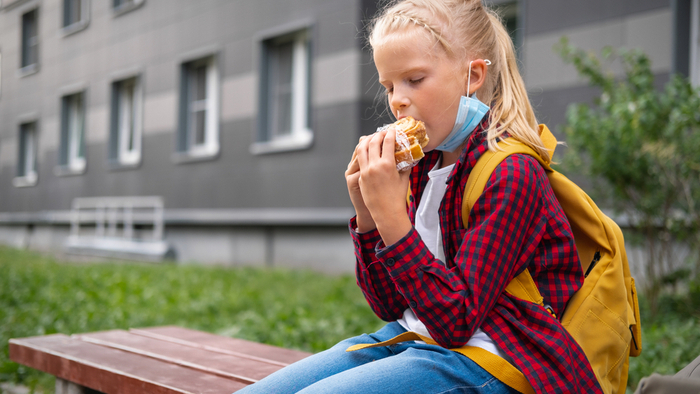 What is Giving Compass?
We connect donors to learning resources and ways to support community-led solutions. Learn more about us.
---
Giving Compass' Take:
• Amy Mayer, at Harvest Public Media, reports on the details of the USDA's extension of provisions for free meals in schools during coronavirus.
• Why are free meals so critical during COVID-19 and the current economic crisis? What can you do to help equitably distribute free meals to students in need?
• Locate resources that need your support in distributing schools' free meals during COVID-19.
---
Schools are resuming instruction but with the COVID-19 pandemic continuing, they are facing an ever-changing metric for whether students are physically in school buildings. Being able to provide meals to them no matter how they're learning remains a challenging priority.
This week the U.S. Department of Agriculture announced it's extending provisions that allow schools to provide free meals to all children, which can be packaged for pick-up, delivered to classrooms or served in a traditional lunch line.
USDA made these adjustments in the spring to account for the abrupt closure of schools, and the School Nutrition Association worked with Congressional allies during the summer to push for continuation into the 2020-2021 school year.
Lunchtime Solutions is a private company that contracts with districts in Iowa, Nebraska, Missouri, Minnesota and South Dakota to provide school food service. Heather Wahl, compliance coordinator, says the extension will help schools meet student needs regardless of whether learning is in person or online. The requirement that meals be served to groups is waived and one parent can pick up a set of meals for the whole family.
Wahl says in anticipation of this unusual school year, Lunchtime Solutions invested a lot of time this summer planning for menus that could easily pivot from one setting to another. Every menu includes an option that could be packaged up to-go so that on a day's notice a school would be able to switch if instruction moves from in-person to remote.
Read the full article about students' access to free meals during COVID by Amy Mayer at Harvest Public Media.

---