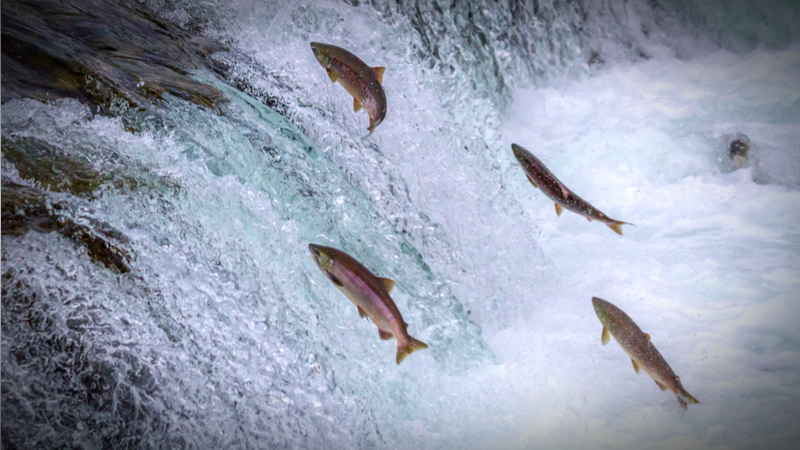 What is Giving Compass?
We connect donors to learning resources and ways to support community-led solutions. Learn more about us.
---
Giving Compass' Take:
• Accelerating Social Transformation curator Akhtar Badshah discusses how philanthropy should stop boosting a few massive organizations (whales) and instead thinking about supporting smaller programs that are sustainable (salmon).
• Are we doing enough in the sector to shift into this mindset? What orgs would be considered the "whales," and which are the "salmon" that swim upstream? The main takeaway here is: Embrace risk and focus on ingenuity.
• Here's more on how we can boost philanthropy's reach, no matter the currents.
---
We are in a period of unusual turbulence. There is uncertainty in all sectors of our economy and society. Traditional frameworks are being upended, which is having an impact on the philanthropic and social sector. I am seeing three distinct shifts that impact the social/philanthropic sector.
First, the traditional model that we have followed for 250 years where value creation flowed through hierarchical institutions is slowly declining which is undermining the relevance of many existing institutions including philanthropic ones. What is happening is that we are seeing the rise of a new highly networked emergent, and a fluid way of organizing activities and creating value.
Second, we are seeing four new levers of change. These four levers are:
New Funders and Funding Models
Measuring Impact and Return on Investments
Exponential Technology
Scale and Public Policy
Third, to accelerate social transformation and have the sustainable impact on the communities we serve, we need to rethink our approach. We must take into consideration the growing impact of second curve philanthropy and the 4 Levers of Change and move away from funding and creating Whales, where one or few programs grow on a massive scale to have the desired impact.
Consider Spawning Salmon small yet impactful efforts that are locally driven and connected efforts that can swim upstream and create their own model of sustainability or re-creation.
Leaders, who are willing to take informed risks and swim upstream, must be resilient and be bridge-builders between the first curve and second curve philanthropy. They will need to be continuous learners; be able to accept constant change and embrace ambiguity ...
Read the full article about accelerating social change by Akhtar Badshah at medium.com.
---