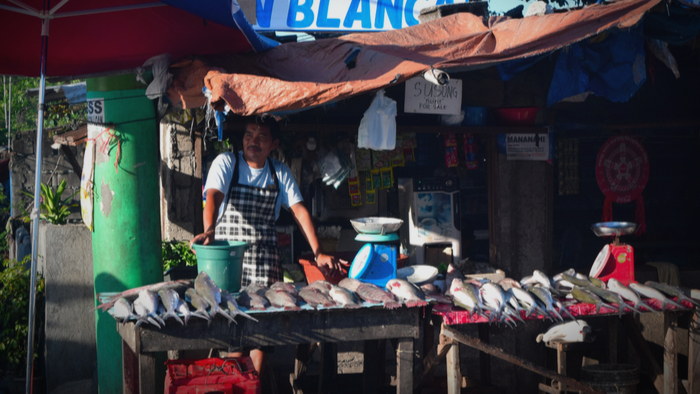 What is Giving Compass?
We connect donors to learning resources and ways to support community-led solutions. Learn more about us.
---
Giving Compass' Take:
• Experts say that local food supply chains in the Philippines need more infrastructure, research, and technology to achieve food security and sustainability. 
• How can funding research and technology strengthen the infrastructure of food supply chains? 
• Read more about struggling food supply chains during COVID-19. 
---
When the Philippines' main island of Luzon was placed under lockdown on 16 March to contain the spread of the coronavirus, roads to and from Metro Manila were sealed off, including farmers' routes to the capital city.
As the government scrambled to put together rules for food supply trucks to enter the city, Sonny Reyes found himself unable to deliver the 15,000 pineapples he had just harvested on his farm in Tanay, Rizal, about 60 kilometres from the capital.
The 49-year-old had taken a loan of US$3,000 from the bank to be able to plant the fruits in time for the summer season. "If I didn't sell the pineapples right away, they would spoil and I would have to throw them out. I would not be able to pay the loan and I would not have money to give my kids for school," he told Eco-Business.
Reyes reached out to Cherrie Atilano, founder of non-governmental organisation (NGO) Agrea, for help.
Atilano—whose NGO aims to eradicate poverty among farmers and fishermen through training and education—helped him to source a truck owned by the Tanay municipal government that could easily pass through the stringent checkpoints and transport the pineapples to Makati City, where she lived.
Called the Move Food Initiative, Atilano and her team bought produce from farmers and sold it to consumers, strictly observing the government's price freeze on the cost of basic goods for 60 days.
Read the full article about food security by  Hannah Alcoseba Fernandez at Eco-Business.

---