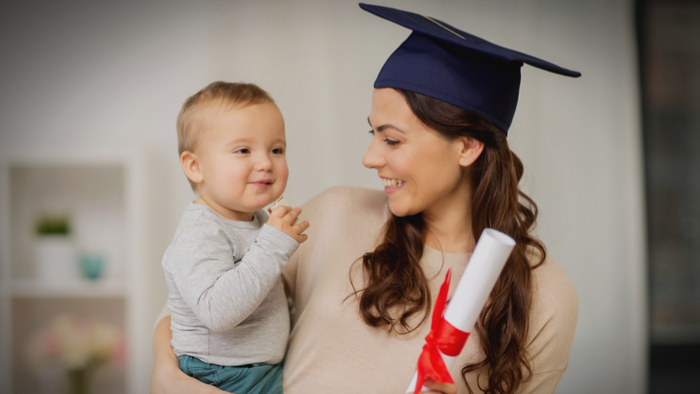 What is Giving Compass?
We connect donors to learning resources and ways to support community-led solutions. Learn more about us.
---
Giving Compass' Take:
• There are various opportunities for colleges, foundations, policymakers, communities, and philanthropists to help increase the rates of single mothers graduating from college. 
• The authors note that philanthropists can play a specific role as thought-leaders, conveners, and investors in family conscious programs for single mothers in school. 
• Did you know the number of single mothers in college has doubled in twelve years? 
---
Today's college communities include 1.7 million single mothers striving to earn degrees that could secure better futures for their families, but only 8 percent of them complete school within six years, due in large part to the difficulties of balancing parenting with schoolwork and jobs.
The challenge is particularly pressing for people of color: Nearly four in ten Black female college students are single mothers, and Latina and Native American women students are also more likely to be juggling parenthood and school without the support of a partner.
Emerging evidence suggests that investing in single mothers' educational attainment would be a worthy economic development priority for current and future generations. A recent analysis by the Institute for Women's Policy Research found that single mothers who complete associate degrees earn $329,498 more over their lifetimes and are 38 percent less likely to live in poverty than single mothers with only high school diplomas.
Colleges, communities, foundations, and policymakers have made some strides in increasing educational opportunities for single mothers, but they must be encouraged to do more. Here are five actions that can make a difference:
Collect Better Data
Consider Parenting Costs in Financial Aid and Student Supports
Collaborate With Communities
Provide College Support Without Work Requirements
Encourage Proactive Policies for Student Parent Success
By doing more to address the needs of students who are single mothers, colleges will achieve better and more equitable educational outcomes and contribute to the economic success of individuals, families, and the country.Philanthropists can play a role as thought leaders, conveners, and investors in family-conscious campuses, programs, and communities. Helping single moms helps us all and will pay off for generations.
Read the full article about supporting single mothers in college by Barbara Gault & Jennifer Zeisler at Stanford Social Innovation Review.

---