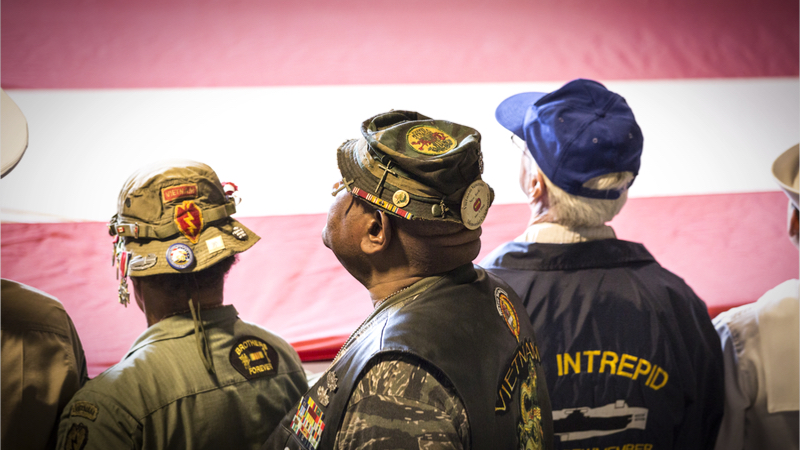 What is Giving Compass?
We connect donors to learning resources and ways to support community-led solutions. Learn more about us.
---
The Philanthropy-Joining Forces Impact Pledge is a voluntary commitment to strengthen services and support for millions of veterans and military families throughout America. It has cumulatively resulted in investments of nearly $282 million in private funds through grants and other forms of support.
Interested in reading more on veterans? Visit this selection on Giving Compass.
The launch of the Impact Pledge in April of 2014 was spearheaded by First Lady Michelle Obama, Dr. Jill Biden, the Blue Shield of California Foundation, the Bristol-Myers Squibb Foundation, the Lincoln Community Foundation, and the Robert R. McCormick Foundation. It is convened by the Council on Foundations and the Veterans Philanthropy Exchange.
More than 2.7 million U.S. military personnel, including close to one million National Guard members, have deployed since 2001, the year the wars in Afghanistan and Iraq began. While the majority of service members transition back to civilian life without event, persistent traumas during the longest period of war in American history have given rise to myriad wellness, education, and employment challenges for many veterans and families.
The the Council on Foundations is concerned that the official "end" of America's involvement in Afghanistan and Iraq may cause the public to lose sight of the challenges veterans, military personnel, National Guard members, and their families will continue to endure long after their return to civilian life. They are determined to prevent that. Both the immediate and long-term nature of these challenges require critical partnerships among funders and between the public and private sectors.
By reaching out to our peers in philanthropy through the Philanthropy-Joining Forces Impact Pledge, we want to help our sector identify significant and sustainable funding streams and develop new partnerships in communities across America.
The Council's goal is to provide a central platform for people and organizations to find each other - not to drive a particular partnership or solution.
---