What is Giving Compass?
We connect donors to learning resources and ways to support community-led solutions. Learn more about us.
---
This Q&A is part of a series highlighting the work of Black education leaders in partnership with the 1954 Project.
---
Adrian Mims didn't set out to be a nonprofit leader. But his dissertation research put him on a path that led to the creation of The Calculus Project, a nonprofit organization dedicated to creating a pathway for Black and Latinx students to succeed in advanced mathematics.
In June 2014, Brookline Public Schools in Massachusetts graduated the first cohort of students from its Calculus Project program. One-hundred percent of the students attended college; many choosing to major in STEM disciplines. The organization has since expanded throughout Massachusetts and beyond. Mims aims to take his work all across the country to address the national problem of inequality in STEM education. 
Because of this innovative work and proven impact Mims was recently recognized as one of five Luminaries by the 1954 Project, a Black-led education philanthropy initiative to fund diverse leaders. Giving Compass recently spoke with Mims about his work and future plans. The interview has been edited for length and clarity.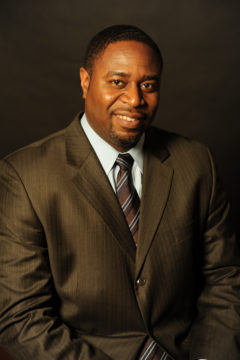 What inspired you to launch The Calculus Project?
The Calculus Project started out as an extension to my dissertation and then evolved into an organization. The work of the Calculus Project is all rooted and cemented in research. When I was doing my literature review and writing my dissertation, I was looking at all of these things that other people had done to elevate math achievement for students of color. They were all separate pieces. I just pulled something together that made it comprehensive. I wrote a report, gave it to the superintendent of public schools in Brookline, and he said, "I really like this. I think we might have something. So here's $25,000." What started out as a $25,000 investment to pilot a program showed amazing results within a year. And then it was just a snowball effect after that. 
How is your organization helping to create a more equitable landscape for education in the US? 
Our approach is a grassroots approach. We look to engage the three major stakeholder groups: The students, the parents, and the educators. We recognize that the system, as it is designed currently, is not advantageous to kids of color and low-income students. Our approach is to work with the students during the summer, accelerate their learning, deepen their knowledge, build their confidence. Then send them back to their schools.
We also take a look at the policies and practices that serve as barriers to Black students reaching their highest potential. So because of my background, my area of expertise, I know how a lot of the policies and practices work in these schools. And we work collaboratively with the senior administrative team from the superintendent's office all the way to the schoolhouse to either modify those practices and policies or totally get rid of them. To ensure the new policies are sustainable, all of the educators participate in professional development to help them understand the rationale and research behind the change.  
What do you see as the biggest challenges facing students of color in the United States today? What makes you optimistic? 
Kids of color are facing a lot of challenges. The pandemic just exacerbated another challenge, which is the digital divide. Accessing curricula has never been more challenging than it is right now. Now it's a matter of - what is your Internet connectability and do you have a laptop? And having it doesn't mean that it's fully functioning consistently. 
A report from the Office of Civil Rights under the Department of Education stated that less than 50% of high schools in the country offer calculus. Unfortunately, your zip code really determines what courses you have access to. The most robust sector right now in our economy is STEM. Those jobs provide people with 401Ks and good health benefits. Those jobs also allow people to work from home a lot more easily than service jobs. Getting to those jobs requires students to have the requisite math courses, and also the science courses.
In 2021, we're still dealing with the same problems in education we were dealing with 50 years ago. The data show that schools are more segregated now than ever. We have to stop looking at education that doesn't serve populations well, as "it's their problem, not my problem" Unless we do better as a nation, making sure that public education is working better for all students, then no one wins.
What gives me hope is the work that I see other people, and myself, doing. I see students succeeding regardless of the challenges they have. When you see one student succeed, you know that everyone can if we give them the support that they need. 
What results do you hope to achieve with The 1954 Project's support and funding?  
I hope to scale up the work that I am doing currently and impact more students. You're limited in terms of your financial resources to do this work. It takes money, but I also don't believe that just throwing money at a problem always results in a solution. It's about really knowing how to execute a plan effectively to get the results. I've been doing this for a long time with really great staff and we've gotten really good results. I was so glad to hear that The 1954 Project was doing this work because there are people on the ground who could do even more work and touch even more lives if they have those resources. 
How can philanthropists help reimagine our education landscape and better support Black education leaders in the United States? 
A mentor of mine who runs a very successful nonprofit said something that really resonated with me:
"You really want to be in a situation where you have funders and people who are going to invest in you as a leader and not necessarily a program or project."
When you invest in a leader, it allows that leader to be very innovative and creative. That's one thing that is really missing from a lot of conversations: The nonprofit leaders of color who are doing something that's innovative and getting results. Give them the resources and let them continue to innovate and take it to the next level. That's one of the reasons why it is hard for school districts. They usually hit a ceiling and they can't do any more because they only have a finite amount of funding. That money is going into particular programs in a school district and money isn't necessarily being invested in the superintendent who can be a really great leader. 
How should donors be helping to grow the field of Black education philanthropists and allies that The 1954 Project is bringing together?
I cannot think of one particular event or one venue where philanthropists come together and they get a showcase of all of the work that's taking place. The Luminary Awards, that was really the brilliance of The 1954 Project. People had a link, they could sit in their own home and learn about the incredible work that the Luminaries are doing. For people to be able to learn more about our work, that's very important. It would be great to have a venue to showcase all of the great work that nonprofit leaders of color are doing. 
---