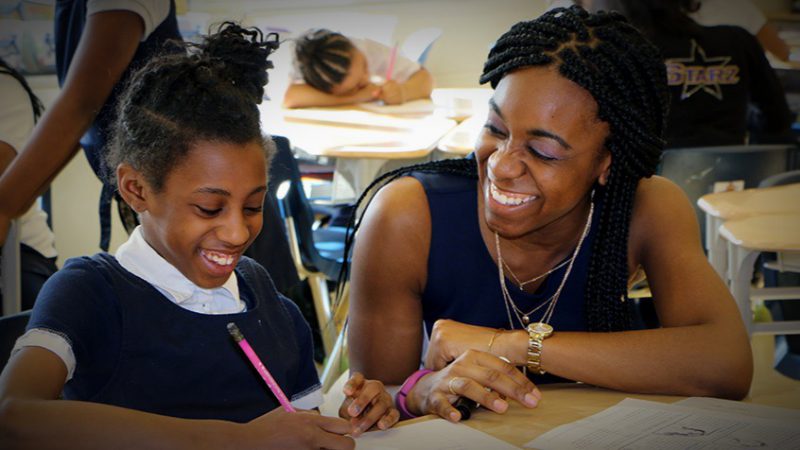 What is Giving Compass?
We connect donors to learning resources and ways to support community-led solutions. Learn more about us.
---
In 2008, Jennifer Green was extremely frustrated by teacher turnover in the Baltimore schools, where she trained middle- and high-school educators. One day she sat down for lunch with a colleague, Christina Hall, and the two started brainstorming about how they could change this trend. Hall worked in policy and budget for the district, and both women knew the equation was simple: great teachers equal great schools.
The question was: where could they find a pipeline of effective teachers? And how could they get them to stay?
Read more about K-12 educators on Giving Compass
Green and Hall found their answer by creating Urban Teachers, a four-year program that prepares teachers for the rigors of a high-needs urban classroom. In the eight years since its founding, the organization has placed more than 500 new teachers in K–12 classrooms in 160 schools.
Urban Teacher's four-year program begins with a one-year classroom residency, and includes graduate coursework for a master's degree and three years of coaching and mentoring. Participants also receive certifications in a content area, such as math or literacy, as well as one in special education.
The financial stability has freed Urban Teachers to go deep in a small number of school districts. The program is hoping one day to make up half the teacher workforce in the three cities it works in and to expand slowly to other areas. "Our goal," says Green, "is to be on a very significant scale in a handful of cities and really help stabilize the teacher workforce."
The numbers show its effectiveness, particularly in getting teachers to stay. Three-fourths—76 percent—of the program's graduates have returned to teach in the classroom their third year. The average retention rate for beginning teachers is 50 percent in most urban school districts.
Read the source article at RSF Social Finance
Like this article? Visit GivingCompass.org for another article in this selection
---