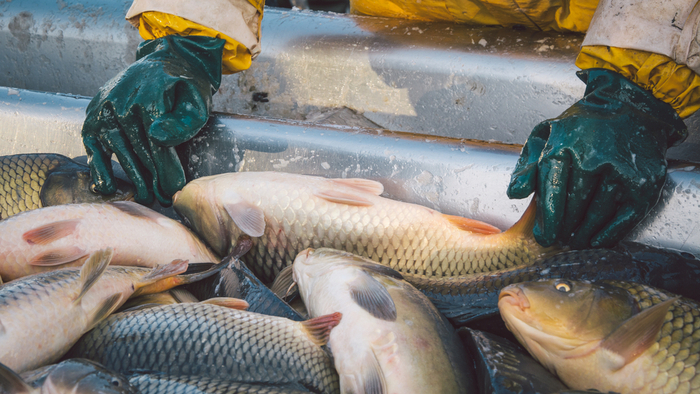 Giving Compass' Take:
 Virginia Gewin explains how new technology can be used to fight modern slavery by identifying forced labor in the seafood industry.
What role can you play in advancing technology and policies that protect people from forced labor?
Learn more about the fight against modern slavery.
---
What is Giving Compass?
We connect donors to learning resources and ways to support community-led solutions. Learn more about us.
---
Every year, the U.S. imports billions of dollars worth of seafood from countries that may be using forced labor on distant water fishing vessels. A growing cadre of tech companies and non-governmental organizations are playing a central role in identifying the most likely violators.
In 2016, the Associated Press revealed the extent of modern-day slavery and human rights abuses at sea, after conducting an 18-month investigation that ultimately freed 2,000 slaves, some held in cages, in Southeast Asia. Since then, governments, companies, and non-governmental organizations have assembled a rapidly expanding constellation of surveillance capabilities, intelligence tools, and treaties necessary to create law enforcement capacity to rein in the "wild west" in the sea. While vessels, often thousands of miles from shore for years at a time, remain largely unregulated, technology is poised to play a central role in identifying the most likely violators.
The International Labor Organization estimates that there are 40 million victims of modern slavery around the world; of those, 25 million are subject to forced labor. Countries in Southeast Asia and Africa are most at risk for human trafficking in their seafood sectors. Seven countries with the highest slavery risk in 2018 generated 39 percent of the global fisheries catch, according to the Global Slavery Index.
Forced labor allows vessels to cheaply venture further out to sea to access profitable fisheries since coastal fish stocks have already been depleted by illegal, unreported, and unregulated (IUU) fishing. Since the U.S. imports over 90 percent of its seafood, and up to 32 percent of wild caught imports come from IUU sources, those fish end up on American plates. In 2015, the United States imported more than $34 billion in seafood from countries such as China, Thailand, Vietnam, and Indonesia. Not only is IUU costing the global economy an estimated $10 to $23.5 billion, U.S. fishermen could be losing $1 billion in revenue annually, according to the World Wildlife Fund. After slave-caught seafood was found in popular food chains that included Wal-Mart, Costco, and Whole Foods, seafood companies realized the need to protect their supply chains from claims of forced labor or IUU. As seafood supply chains develop methods to track and label sustainably caught fish, the industry is exploring ways to monitor what happens on ships out at sea.
"The tech is coming–and it is coming so fast that we, in the conservation community, are growing an ecosystem of organizations that have the skills and capabilities to take advantage of it," said John Amos, president of Skytruth, a non-profit conservation watchdog organization whose analysis of satellite imagery supported the AP slavery investigation.
Read the full article about forced labor in the seafood industry by Virginia Gewin at The Counter.

---