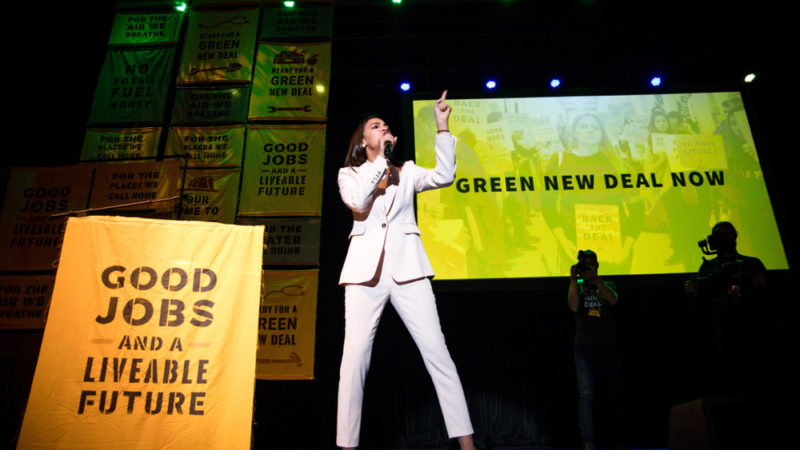 What is Giving Compass?
We connect donors to learning resources and ways to support community-led solutions. Learn more about us.
---
Giving Compass' Take:
· In this report from The Heritage Foundation, Kevin D. Dayaratna addresses the faults in the proposed Green New Deal and suggests policymakers remove government barriers to energy innovation and allow all forms of energy to compete in a free market. 
· What specific problems does this report find in the Green New Deal? How would free competition between all types of energy encourage innovation?
· Read and learn more about the Green New Deal and what's to come.
---
On February 7, 2019, Representative Alexandria Ocasio-Cortez (D–NY) and Senator Ed Markey (D–MA) released their plan for a Green New Deal in a non-binding resolution. Two of the main goals of the Green New Deal are to achieve global reductions in greenhouse-gas emissions of 40 percent to 60 percent (from 2010 levels) by 2030, and net-zero emissions worldwide by 2050. The Green New Deal's emission-reduction targets are meant to keep global temperatures 1.5 degrees Celsius above pre-industrial levels.
In what the resolution calls a "10-year national mobilization," the policy proposes monumental changes to America's electricity, transportation, manufacturing, and agricultural sectors. The resolution calls for sweeping changes to America's economy to reduce emissions, but is devoid of specific details as to how to do so. Although the Green New Deal also calls for universal health care, guaranteed jobs with a family sustaining wage, "healthy food security," and efficiency spending on all homes and buildings, the analysis in this Backgrounder focuses on the Green New Deal's energy-related policies, intended to reduce greenhouse-gas emissions.
To provide a broad estimate of the costs, Heritage Foundation analysts modeled the economic impact of an entire series of economy-wide carbon taxes, each increasing the tax gradually over time. We also included regulations and mandates to achieve the Green New Deal's goal of increased renewable energy generation. Our cost estimates constitute a significant underestimate of the true costs of the Green New Deal as the carbon tax and regulations do not completely achieve the policy objectives outlined in the non-binding resolution. Furthermore, the analysis does not account for the direct taxpayer costs, as advocates want to pay for the Green New Deal through a massive stimulus-style package. Layers of additional regulations and mandates, such as the proposal's objective to maximize energy efficiency for every new and existing building in the U.S., would drive costs even higher. Still, this analysis demonstrates how economically damaging the energy components of the Green New Deal would be for American families and businesses—all for no meaningful impact on the climate.
Read the full article about the Green New Deal by Kevin D. Dayaratna at The Heritage Foundation.

---