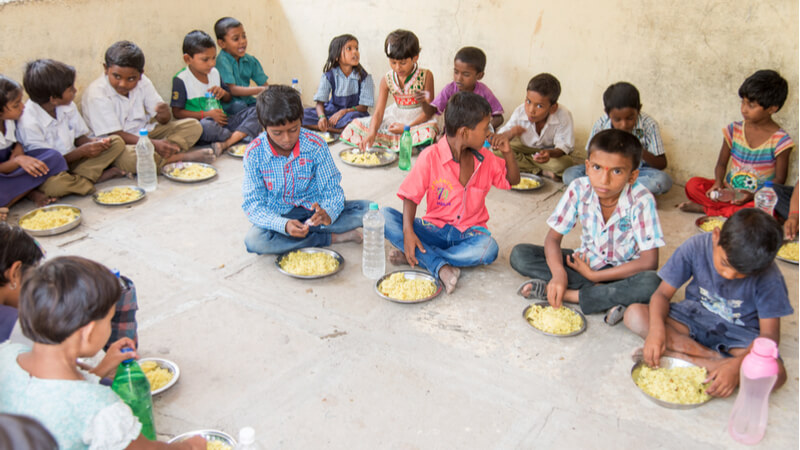 What is Giving Compass?
We connect donors to learning resources and ways to support community-led solutions. Learn more about us.
---
There are tremendous opportunities for impact giving in India because of the scale of need, growing nonprofit capacity, and local philanthropic engagement.
India is known for its rich multiplicity of culture, history and traditions. This heritage, coupled with the growing needs and ambitions of its formidable population, makes the country struggle with diverse paradoxes that hamper its journey to development. It's a population that fights for its very existence —  an estimated 840,000 infants died in 2016 alone — and a place where a dignified existence is difficult when 52% of people in India's rural areas and 7.5% in urban areas still defecate in the open. Systemic change in this scenario is a daunting task, more so because of the scale involved. In a country of 1.3 billion people, more than 250 million live on a daily income of less than $2. This highlights the urgent need for strong philanthropic support.
However, the sheer demand for improved socioeconomic conditions isn't the only factor that makes India an attractive destination for one's philanthropy. Given the magnitude of challenges, nonprofits in India are recognizing the need to put scale at the very center of any solution, offering the potential to impact thousands, even millions of lives through philanthropy.
Akshaya Patra is a prime example of the types of organizations fostering innovative solutions at a low cost and unprecedented scale. To address the widespread problems of child malnutrition and low school attendance, the organization began its work in 2000 with one centralized kitchen in Bengaluru, providing midday meals to 1,500 children in five schools. Today, through smart design and technology, Akshaya Patra prepares and delivers fresh lunches to 1.6 million children every day at a cost of 13 cents per meal, and by 2020, aims to serve 5 million children.
The exponential growth in local philanthropy in recent years further reaffirms the conviction that there is no better time than now to give to India. In 2016, private donations made up 32% of total contributions to the development sector in India, up from a mere 15% in 2011. Philanthropic funding by individuals, in particular, has grown exponentially—recording a six-fold increase in recent years, with the top 27 philanthropists in the country giving a cumulative amount of more than $7.7 billion (INR 50,000 crore) between 2014 and 2016.
Considering that for every U.S. donor giving to India many more Indians are also contributing locally, there is still a tremendous opportunity for U.S. donors to ride this wave with the assurance that by directing philanthropic capital to India, their impact will not only be multiplied, but also sustained.
However, taking the first step towards philanthropy, especially when directed towards a country other than your own, can be an overwhelming prospect. Understanding the local context, identifying credible nonprofits, and selecting partners to work with are a few of the many considerations key to creating maximum impact, but ones that are often difficult to navigate without the right support.
How to Take Action as an Impact-Giver
Here are a few tools and resources that can get you started and guide your journey of giving to India:
Understanding the Landscape of Indian Philanthropy
Impact India: In 2015, Stanford Social Innovation Review, Dasra and The Bridgespan Group joined forces to publish Impact India, a magazine for philanthropists and social innovators targeting India. The second edition examines how successful Indian nonprofits have achieved impact at scale.
Bain India Philanthropy Report: India Philanthropy Report is an annual publication led by Bain & Company that provides insight into trends in the Indian philanthropy sector. The 2017 report focuses on the evolving approaches that Indian givers are adopting to maximize their impact.
Understanding Key Development Issues
Dasra's research reports: Dasra's reports are a culmination of thorough analysis, expert engagement and diligence on existing programs. They highlight gaps, needs, and impactful solutions for a given issue, and recommend organizations with the greatest potential.
Identifying Impactful Nonprofits and Directing Funding

Global Giving: GlobalGiving, which partners to bring projects to donors on Giving Compass, is a global crowdfunding community helping US donors give to vetted, locally-driven organizations globally, and providing access to tools for effective giving.
Give2Asia: Give2Asia is an international nonprofit that connects corporations, foundations, and individuals with charitable projects and social enterprises across Asia.
Giving Compass: Draw on resources here to learn more about philanthropy in India and connect to related philanthropic issue funds.
With one of the fastest growing development sectors in the world, India is truly a sandbox to implement tried-and-tested, cutting edge philanthropy tools at a scale unavailable elsewhere. There is an undeniable benefit – in terms of knowledge, experience, and funding – in matching the fundamental needs in India with the intent of donors from the U.S. Support from the right resources can be an unparalleled catalyst for creating impact at the kind of scale that India both needs and provides.
________
Original contribution by Deval Sanghavi, co-founder of Dasra, India's leading strategic philanthropy foundation that accelerates social change by driving collaborative action through powerful partnerships.
---