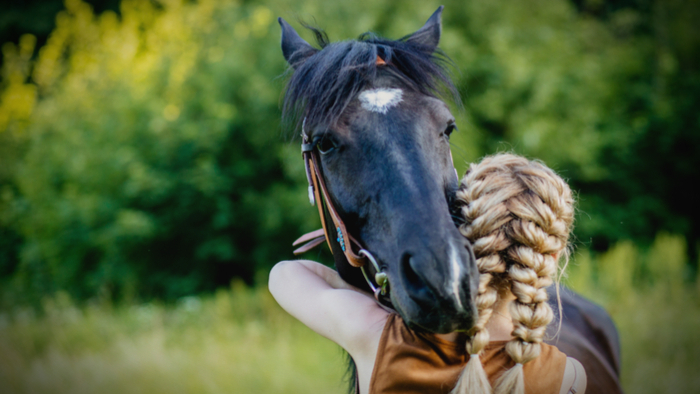 What is Giving Compass?
We connect donors to learning resources and ways to support community-led solutions. Learn more about us.
---
Giving Compass' Take:
• Karin Taylor is a philanthropist and the owner of Weisberg Stables, where she runs an equestrian program that helps veterans, disabled youth, and children develop critical skills. 
• How can philanthropists collaborate on programs like the ones at Weisberg Stables? 
• Read more about other philanthropists involved with equine therapy. 
---
Karin Taylor, philanthropist and owner of Weisberg Stables, is making a positive difference in the lives of those with special needs, foster children, veterans and at-risk youth. Through her equestrian therapy programs, sensory petting zoo, ranch tours and horse riding lessons at the stables, she's able to provide an interactive experience that is fun as well as therapeutic.
Weisberg Stables is a private 20-acre facility located in sunny Jupiter, Florida. It's home to a beautiful menagerie of over 250 farm and exotic animals, many who have been rescued or rehomed. The stables are an oasis for over 150 animals including Mustangs, ponies, emus and adorable wallabies.
The programs developed through the foundation focus on helping children develop literacy skills, give education to children in the Dominican Republic and provide volunteer opportunities for children ages five through seventeen years old.
One of Taylor's most celebrated programs is called Unbridled Power, which is a one-of-a-kind equine-assisted-learning horse therapy program that focuses on helping veterans, disabled youth and children develop critical life skills.
Equine-assisted-learning (EAL) is a remarkable learning approach that promotes the development of essential life skills through groundwork activities using horses as the teacher. This type of therapy has been proven to be more effective than talk therapy and is especially beneficial for children with Autism.
As Taylor evolves, expands and redevelops programs for Weisberg Stables she focuses on these three steps to help her with the transitions:
Be committed. Any change is going to be uncomfortable at times and a lot of hard work. Don't give up at the first obstacle you encounter.
Be honest about your needs. What do you need financially? What do you need emotionally?
Be true to yourself. There will be people who will tell you not to do it. Trust your instincts.
Read the full article about equine assisted learning by Cheryl Robinson at Forbes

---