What is Giving Compass?
We connect donors to learning resources and ways to support community-led solutions. Learn more about us.
---
What is wealth? Wealth is more than money and financial assets. Critical to the accumulation and sustainability of wealth is power and agency; a sense of control over one's life and destiny and the ability to make choices and craft a future for yourself, your family, and your community. Wealth is comprised of other types of capital including: The social capital of connection, the individual capital of skills, the intellectual capital of new ways of operating, and the natural capital of healthy ecosystems.
In the U.S., Black wealth has never had an equitable opportunity to grow. Though Black people make up nearly 13% of the United States population, they hold less than 3% of the nation's total wealth. The net worth of a typical white family is $171,000, compared to just $17,600 for a Black family. White Americans have ten times the wealth of Black Americans on average. Said another way, for every $1 a white family has, a Black family has 10 cents. If current policies, behaviors, and trends remain the same, it would take Black families 228 years to reach equitable household wealth compared to white families. Closing the wealth gap could increase U.S. GDP by $5 trillion by 2025. However, doing so requires a radical rethinking of how wealth is attained and an honest account of the historical and systemic policies that have contributed to such disparities. As the nation and the world collectively struggle to rebuild amid the economic slowdown ushered in by COVID-19, access to wealth and economic opportunity must be democratized to support the prosperity of all. 
Atlanta is the number one city for income inequality in America, highlighting a dark reality that too many communities of color that have been systemically denied the chance for economic opportunity, access, and shared prosperity. Despite Atlanta's reputation as a burgeoning mecca for upwardly mobile African Americans, the average Black-owned business is worth $58,085, while a white-owned business is worth $658,264.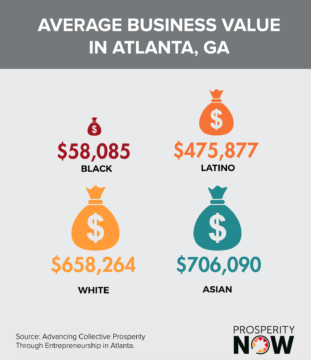 Community wealth-building strategies help promote engagement and investment to benefit the community as a whole. Among these strategies, growth of Black-owned businesses presents an onramp to collective prosperity that goes beyond the immediate gain of an individual business owner by increasing employment for Black workers and creating community assets. According to the Small Business Administration's Office of Advocacy, new businesses account for nearly all new job growth, with small companies accounting for 65% of new jobs created. Black-owned businesses hire workers of color, play key leadership and mentorship roles that invite other workers of color into the world of self-employment and business ownership, and create community institutions that preserve community culture. Building a healthy, thriving business ecosystem is an asset that can directly improve the financial security of more than the entrepreneur and be a platform for community wealth building. Yet, Black-owned businesses have historically faced barriers to access to capital, procurement opportunities, and corporate and local government decision makers, making it difficult for these businesses to grow and hire in employees. 
Recognizing these challenges, Atlanta Wealth Building Initiative (AWBI) is dedicated to addressing the Atlanta region's systemic racial wealth and economic inequity by removing barriers to shared economic prosperity for all while building an inclusive economy that promotes thriving communities. With an initial focus on small business development as a pathway to building wealth, AWBI works to close the racial wealth gap and advance economic mobility opportunities for African Americans in Southeast, Southwest and Northwest Atlanta, with a particular focus on the Atlanta BeltLine overlay. In 2020 alone, AWBI provided more than $1 million in technical assistance, leadership development, grants, and loans to Black-owned small businesses and business support organizations. 
Ways to support shared prosperity and Black enterprise:
Help Black people gain access, voice and agency - extend your intellectual, social, and reputational capital on their behalf;

Support groups led by people of color for the benefit of communities of color  that have a demonstrated, grounded response to the communities they serve by providing grants and contracting opportunities;

Hire Black people;

Buy from Black-owned businesses. Find your new favorite Black-owned business at

The Official Black Wall Street

and

WeBuyBlack

. Examples in the Atlanta area can be found through the following resources:

Atlanta Wealth Building Initiative's Buy Black page

, Village Market's

Village List

and

Access to Capital for Entrepreneur's Black-Owned Business Directory

; and

Evaluate your foundation's investment portfolios to step beyond standard Environment, Social, and Governance scans to directly assess how your investment practices impact racial equity.
---