Giving Compass' Take:
• Funders for LGBTQ Issues offer insights into the landscape of LGBTQ health and HIV/AIDS care and how grantmakers can make improvements through infrastructure-focused funding.
• Where are opportunities to build infrastructure for LGBTQ health in your community?
• Find out how gun violence impacts the LGBTQ community.
---
In a rapidly changing policy landscape for both healthcare and LGBTQ rights, funders concerned about health disparities, HIV/AIDS, and LGBTQ communities have several unique opportunities for increased impact on LGBTQ Health.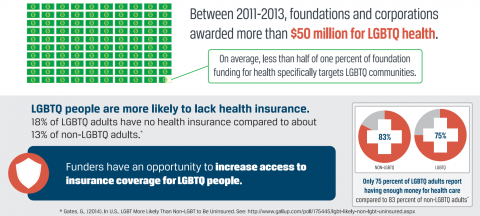 While hundreds of LGBTQ and HIV/AIDS organizations serve nearly 300,00 individuals a year many LGBTQ health and HIV/AIDS organizations are dependant on a small number of funding sources.
Funders have an opportunity to strengthen the HIV/AIDS and LGBTQ health policy and advocacy infrastructure.
Read the full article about LGBTQ health at Funders for LGBTQ Issues.
---
If you are looking for more articles and resources for Public Health, take a look at these Giving Compass selections related to impact giving and Public Health.
---
Are you ready to give?
If you are looking for opportunities to take action and give money to LGBTQIA+, here are some Giving Funds, Charitable Organizations and Projects aggregated by Giving Compass where you can take immediate action.