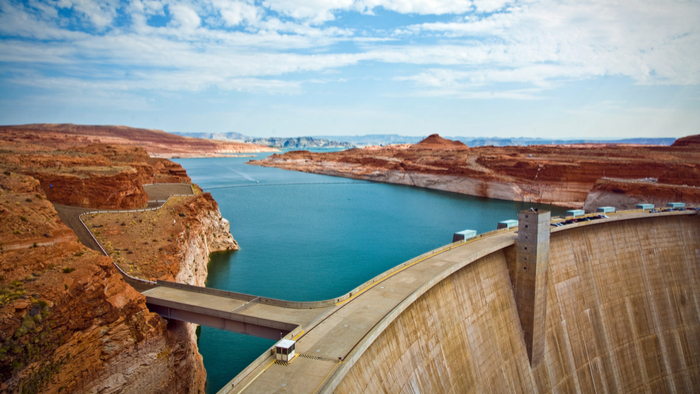 What is Giving Compass?
We connect donors to learning resources and ways to support community-led solutions. Learn more about us.
---
Giving Compass' Take:
• Lois Parshley explains how different countries are weighing the costs and benefits of hydropower, particularly building new dams that will change the landscape. 
• How can funders work to help communities develop and implement effective green energy that works for the locals? 
• Learn about a Mekong hydropower project hurting locals. 
---
On an early spring evening in southwestern Albania, Taulant Hazizaj walks between silver-gray olive trees near the Vjosa River. Farms sprawl over the wide river valley, swatches of irrigated green giving way to the rocky swell of surrounding hills. He points to an ancient tree, whose gnarled trunk is wider than a man's outstretched arms. "This village has been here for 2,000 years," Hazizaj says of his hometown, Kuta, tucked above the water's edge. But in 2016, the Albanian government sold a concession to build a dam a few miles downstream, and now this olive grove, and much of the valley — including the village itself — may soon be underwater.
"If the dam is built, all of that will be gone," Hazizaj says.
Widely regarded as Europe's last wild river, the Vjosa is fed by dozens of mountain tributaries, running 169 miles from the Pindus mountains of northern Greece to the Adriatic Sea. So far, it remains undammed, but a total of 31 dams are projected to be built along the river and its tributaries in coming years. That has both developers and environmentalists squaring off over whether the true value of this special place is best realized by exploiting it for kilowatts, or conserving it for its biodiversity and the nourishment it provides communities up and down its shores.
It's not an easy question to answer — here or anywhere. The proposed dam in Kuta is just one example of a growing enthusiasm, particularly in lower-income countries, for hydroelectric power and its promise of cheap, clean, and copious energy. Around the Balkans alone, roughly 2,700 new hydropower projects of varying sizes are currently in the works — more than all the active hydropower plants in the United States. And that is dwarfed by the number of planned dams in Asia, Africa, and South America.
This stands in stark contrast to the trend in more developed regions like the United States and Western Europe, where new science is driving efforts to dismantle existing dams. Aging reservoirs have become inefficient, local ecosystem and habitat impacts can be profound, and accumulating research suggests that hydropower reservoirs may be a much larger contributor of methane — a greenhouse gas roughly 30 times more potent than carbon dioxide — than previously realized. In a recent study published in the journal BioScience, researchers found that reservoirs may produce as much as a billion tons of carbon dioxide equivalents — the majority of emissions coming in the form of methane — each year, more than the total emissions from the country of Canada.
Other analyses have suggested that even next-generation hydropower technologies are problematic — and in the developing world in particular, dam projects are often beset by questionable economics, local corruption, and uncertain long-term benefits.
Read the full article about hydropower by Lois Parshley at Smithsonian.

---