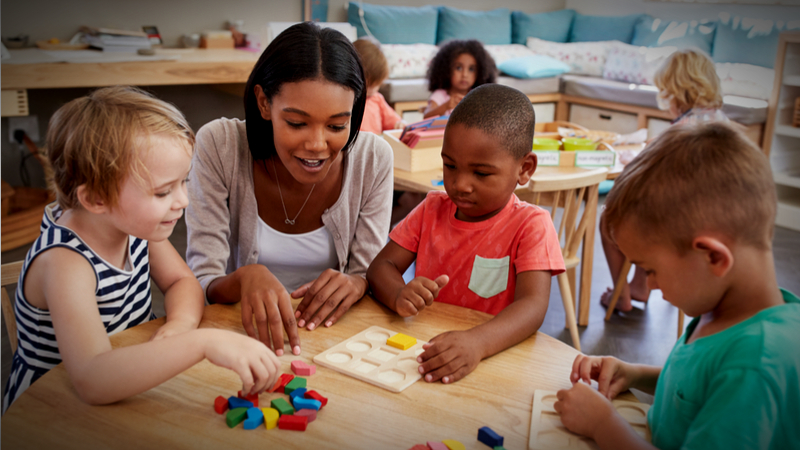 What is Giving Compass?
We connect donors to learning resources and ways to support community-led solutions. Learn more about us.
---
Giving Compass' Take:
• NPR reports on recent research that shows the benefits of early learning and preschool on education outcomes, specifically among children from low-income households.
• How can we make sure enough resources are allocated to pre-K programs? It's also worth noting that the research points to "evidence-based curriculum" as the most likely to be effective.
• It's important to have great teachers, too. Here's how to create an early learning workforce pipeline.
---
Some of the nation's top researchers who've spent their careers studying early childhood education recently got together in Washington with one goal in mind: to cut through the fog of studies and the endless debates over the benefits of preschool.
They came away with one clear, strong message: Kids who attend public preschool programs are better prepared for kindergarten than kids who don't.
The findings come in a report "The Current State of Scientific Knowledge on Pre-Kindergarten Effects," and the authors include big names from the early childhood world: Deborah Phillips of Georgetown University, Mark W. Lipsey of Vanderbilt, Kenneth Dodge of Duke, Ron Haskins of the Brookings Institution and others.
Among their key findings, drawing from across the research base, are:
While all kids benefit from preschool, poor and disadvantaged kids often make the most gains.
Children who are dual-language learners "show relatively large benefits from pre-K education" — both in their English-language proficiency and in other academic skills.
Not all preschool programs are alike.
Instruction built on social and emotional skills, rich play, toys, games, art, music and movement complements explicit instruction focused on things like learning to count and matching letters to sounds and words. Both benefit kids' readiness for school.
Pre-K programs today can also do a better job reaching out to low-income families dealing with stress and mental health issues. The home, after all, provides either a sturdy or fragile foundation, researchers say.
What should the next generation of pre-K programs look like? What else needs to happen — in preschool and beyond — to ensure a long-term impact? And how do we connect all the dots in a child's educational trajectory beginning with preschool?
Read the full article about the benefits of preschool by Claudio Sanchez at npr.org.
---