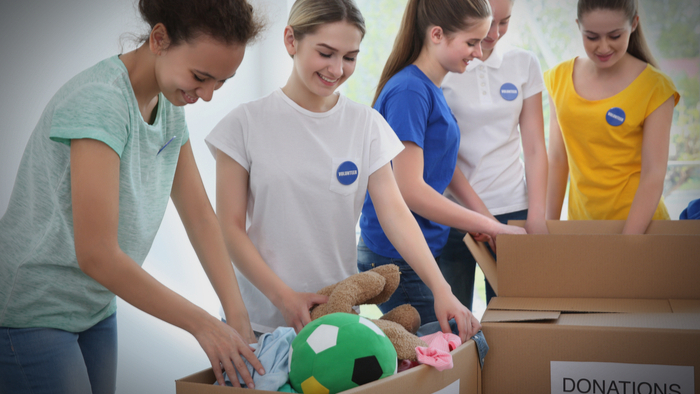 What is Giving Compass?
We connect donors to learning resources and ways to support community-led solutions. Learn more about us.
---
Giving Compass' Take:
• Craig Kielburger, writing for Charity Navigator, lists the ways that teenagers can give back and contribute their time to make an impact on others' lives as well as their own. 
• How can parents encourage their children to give back to their communities? Are we seeing this trend of volunteering in family philanthropy? 
• Here are four reasons why every teen should volunteer. 
---
At the very heart of WE Charity lies the belief that young people can change the world. It's why the organization was formed over 20 years ago with the mission of raising awareness about child labor. And it's the driving factor that's propelled WE into the global movement it has become today—dedicated to creating the next generation of positive changemakers.
Here are seven easy ways teens can give back and make a positive impact in their daily lives, on the issues that are most important to them:
Share skills One group of Toronto students, inspired by WE's Social Entrepreneurship Program, is working to boost the number of women pursuing a career in the sciences by matching young women with mentors in STEM.
Collect for those in need WE encourages youth to come together and collect food to contribute to their local food bank through its WE Scare Hunger campaign.
Volunteer time Channeling some of that screen time into helping out a local community center or senior's home through WE Volunteer Now can provide teens with a sense of pride in doing something that matters while building skills that can help boost their resume.
Fight cyberbullying Through the WE Rise Above campaign, teens can promote positive online behavior and create awareness of the power and impact online words and actions have.
Go green Teens can help keep the earth green by organizing a community clean-up day or launching a WE Go Green campaign and starting a school or community garden.
 Reach out online Through the WE Are One campaign, teens can develop ways to make their school and community more inclusive for everyone.
Rally others Teens can rally others to join them in giving back to their community by starting a WE Club.
Read the full article about how young people can donate their time by Craig Kielburger at Charity Navigator.

---