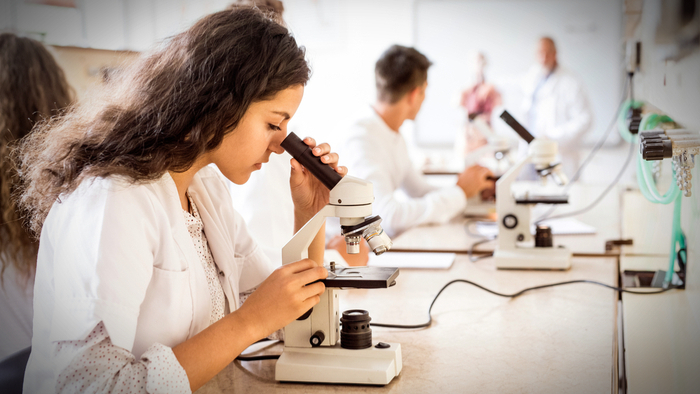 What is Giving Compass?
We connect donors to learning resources and ways to support community-led solutions. Learn more about us.
---
Giving Compass' Take:
• The Hechinger Report details a new study that shows how low-income students that receive financial aid for college are more likely to declare a STEM major than their peers.
• With a rapidly changing workforce, it's worth looking at how we can encourage more kids to pursue degrees in science and tech — funding more scholarships certainly helps.
• For more advice on how to support STEM education, read this.
---
When low-income students get a need-based grant, in addition to other financial aid, they are more likely to study science, technology, engineering or math (STEM) than their peers who don't receive this boost in aid, according to a recent study from the Hope Center for College, Community and Justice.
The study's authors followed students who in 2008-2009 received the Wisconsin Scholars Grant, which is reserved for Pell grant-eligible students from Wisconsin who graduated from a state high school (or received an equivalency diploma) and attended a state college or university, among other criteria. Pell grants cover only 30 percent of the total price of attendance at the average public four-year institution, the authors said.
Wisconsin Scholars Grant recipients were 42 percent more likely to declare a STEM major than their peers, the study found. A STEM degree, in fields such as computer science or petroleum engineering, can lead to a high-paying career for just about anyone. But for low-income students, this kind of degree can be life-changing.
During the 2015-2016 school year, most of the family-dependent Pell students came from households making less than $40,000 a year, according to the College Board. And 90 percent of independent Pell students, who weren't also caring for a dependent, made less than $20,000 during that school year.
Read the full article about aid for low-income STEM majors by Delece Smith-Barrow at The Hechinger Report.

---