What is Giving Compass?
We connect donors to learning resources and ways to support community-led solutions. Learn more about us.
---
A version of this blog was first published by Amber Gonzales-Vargas on Latino Community Foundation's blog Nuestra Voz.
---
2020 has been a moment. In a year filled with such grief, disappointment, uncertainty, and fear, leaders have pulled together to stand up for their communities, to provide a light during dark times, and to show support and love for their neighbors. The Latino Giving Circle Network (LGCN) — the largest network of Latino donors in the United States — has shown up for their community in major ways this year. Senior Program Manager Amber Gonzales-Vargas shares her three highlights:
1. Mobilizing resources and spotlighting Latino-led grassroots nonprofits battling COVID-19
In 2020, the LGCN has given more than $160,000 in grants both in Rapid Response and in regularly scheduled grantmaking. And we are just in August! Several Giving Circles are still scheduled to give out grants later this year, with some even doing a second round of grants. These dollars are brought together by everyday people who are contributing $4/day or $1000/year and want to see a positive change in California.
2. Doing the internal work of anti-racism and anti-transphobia
The LGCN is made up of 500 members, the majority of who are Latinx or Latino identifying. There are many intersectionalities within our community. I am proud that in the middle of this resurgence of social movements for racial equity and Black lives, members hosted conversations in their Giving Circles around colorism and anti-blackness in the Latinx community. I am inspired by events like, "Dismantling Transphobia in the Latinx Community" which will be hosted by members of our LGBTQ Latinx Giving Circle in the coming weeks. In many ways, these conversations and events have been entry ways in how we can stop prejudice and discrimination in our personal and professional lives.
We have the power to combat anti-blackness, transphobia, homophobia, and so much more. All people are worthy of dignity and respect and this network is being bold in addressing our own blind spots.
3. Holding space for each other
We are all humans and we have our good days and bad days when we struggle. To be honest, this is probably what makes working with 500 people so exciting and so challenging. I have been so happy to see Giving Circle members hold space for each other and provide much needed love and support. This is truly a community that grows, learns and supports together. We aren't perfect, but we are doing the best we can.
Read the full article about meeting the moment by Amber Gonzales-Vargas at the Latino Community Foundation.
---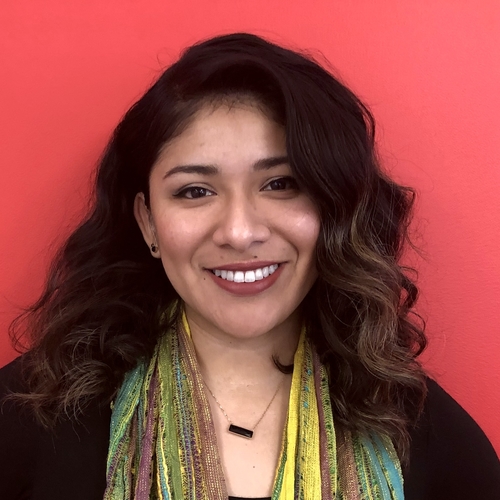 Amber is on a mission to leverage the energy and potential of all Latinxs to create a more equitable society. In her current position as Senior Program Manager, Amber executes and manages the strategic vision of our core initiatives – the Latino Giving Circle Network and the Latino NonProfit Accelerator. In this role Amber supports our philanthropists and grantees to maximize and unleash their own power and power of our communities. She uses storytelling to help shape a new narrative about Latinxs in California and across the country.