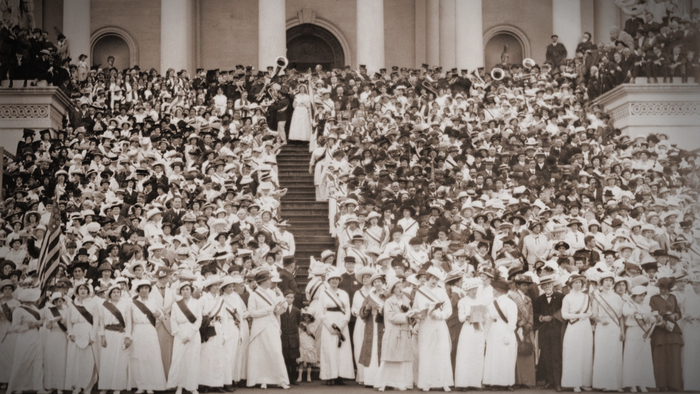 What is Giving Compass?
We connect donors to learning resources and ways to support community-led solutions. Learn more about us.
---
Giving Compass' Take:
• Alia Wong discusses a study that suggests that the women's suffrage movement helped improve education because more kids stayed in school during this time period. 
• What is the next phase of improving gender equity? What role can funders play in advancing gender equality to improve communities? 
• Learn more about Women's Equality Day. 
---
When the United States ratified the Nineteenth Amendment nearly a century ago, the law's immediate impact extended far beyond giving women the right to vote.
A new study shows that another one of the ripple effects of women's suffrage was that, across the board, children were more likely to stay in school. For this study, three economists—Dartmouth College's Na'ama Shenhav, Bucknell University's Esra Kose, and Southern Methodist University's Elira Kuka—digitized archival local school-enrollment and school-spending figures dating back to the early-20th century for around 500 U.S. cities with at least 10,000 residents, and analyzed that information alongside census statistics, among other data. They looked at adolescents who were 15 years or older (and about to complete school) by the time suffrage was granted to women, and compared them to children who were still in school, or about to start, at the time.
This allowed the researchers to see how women's suffrage (or lack thereof) affected long-term outcomes for kids—including how long they stayed in school, their literacy levels, and their eventual income.
Shenhav and her team found that suffrage increased local education expenditures by 9 percent on average and corresponded with a rise in school enrollment. These trends were more pronounced in cities that had high shares of African American residents, were located in the country's South, and/or had low rates of per-capita spending on education and other social services to begin with. For black students, "full exposure to suffrage"—i.e., being born after or only shortly before the women's right to vote became the norm—led to nearly an additional year of education.
For white students, the increased education amounted to a statistically insignificant 0.10 years, though white children in the South gained an additional 0.96 years in school.
Read the full article about women's suffrage by Alia Wong at The Atlantic.

---